This past week was quite a week, with Legislative committees hearing testimony on priority bills around divisive concepts, school vouchers, housing justice, and abortion bans. Thank you to everyone who came out to make their voices heard. We are still waiting on the committees to issue vote recommendations.
See Rights & Democracy New Hampshire legislative priorities for 2022.
Below is a list of top actions you can take this coming week on key RAD priorities, as well as a calendar of priority bills that will be heard. Scroll to see "Tips on Testifying" for instructions to give your position on a bill, in person or online.
Know anyone else who would like to get these updates? Invite them to sign up.
Until next week, and in solidarity,
David Bates
Sebastian Fuentes
Asma Elhuni

Sign in to register your position on these RAD priority bills, and testify in writing and in person if you are able! See "Tips for Testifying" below. 
IMMIGRATION JUSTICE
Oppose HB 1266, which prohibits local governments from policies of non-communication or non-cooperation with immigration authorities. Talking points.
When: Friday, January 21st, 2:15pm (sign-ins accepted until midnight)
Where: House Criminal Justice and Public Safety, LOB 202-204
HEALTHCARE ACCESS
Support HB 1405, expanding access to telehealth mental healthcare.
When: Monday, January 24th, 2:15pm
Where: Public Hearing in House Health, Human Services and Elderly Affairs, LOB 210-211
Support HB 1578, covering immigrant and refugee women and children under Medicaid and the Children's Health Insurance Program.
When: Tuesday, January 25th, 1:45pm
Where: Public Hearing in House Health, Human Services and Elderly Affairs, LOB 210-211
CLIMATE ACTION
Support HB 1250, requiring the Public Utilities Commission to consider Climate Change in their decision making.
When: Tuesday, January 25th, 1:30pm
Where: Public Hearing in House Science, Technology and Energy, LOB 306-308
HOUSING EQUITY
Support SB 217, relative to eviction notices. This bill would require landlords to extend eviction notices to 90 days. 
When: Tuesday, January 25th, 9:15am
Where: Senate Commerce, SH Room 100
EDUCATION JUSTICE
Oppose HB 1679-FN, relative to the dissolution and repeal of cooperative school districts. Executive session on pending legislation may be held throughout the day (time permitting) from the time the committee is initially convened.
When: Thursday, January 27th, 2:45pm
Where: House Education, Room 205-207, LOB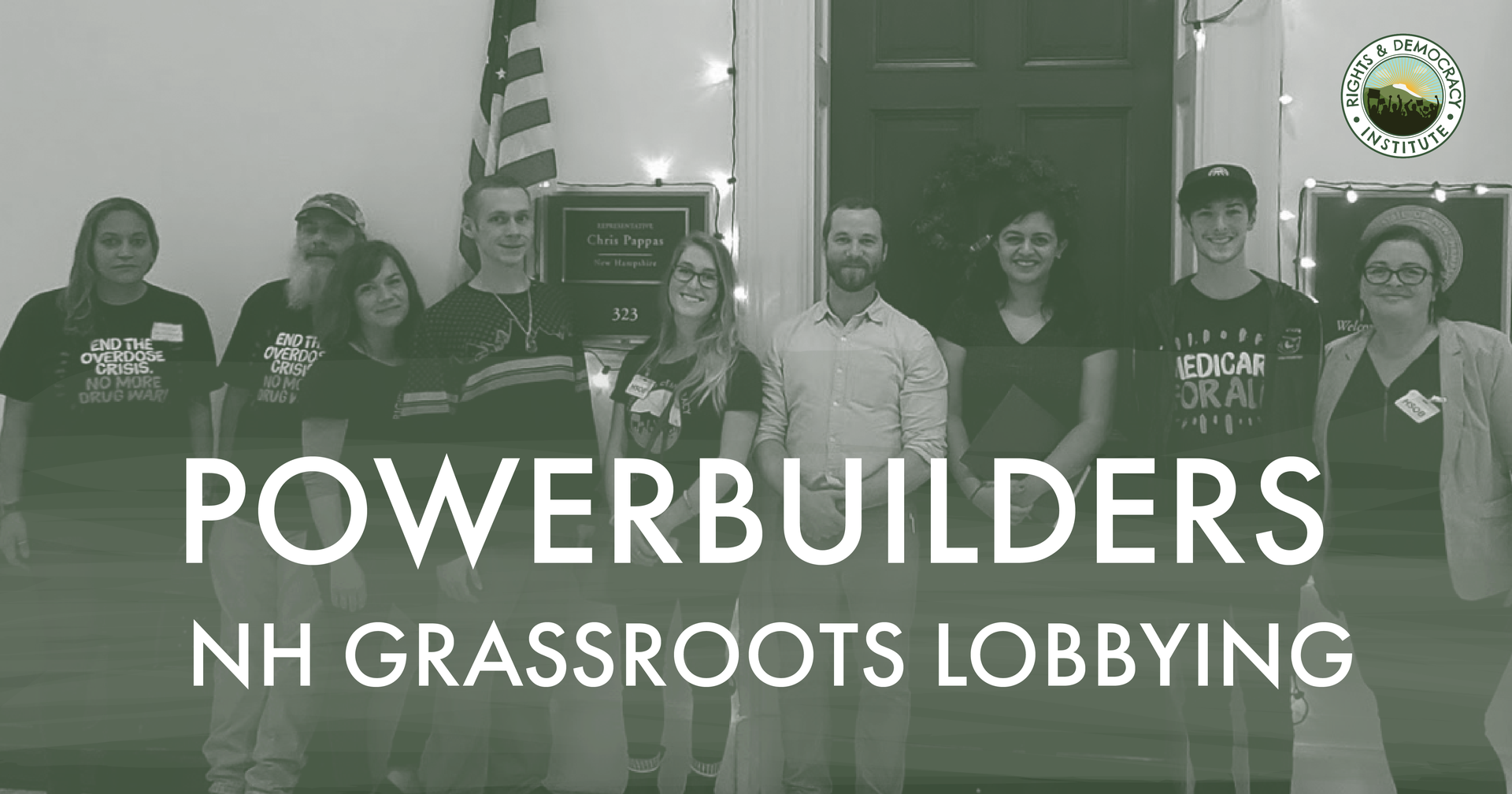 On Thursday, our sister organization Rights & Democracy Institute held a grassroots lobbying training.
If you want to gain insight on giving powerful testimony and how the New Hampshire legislative process works, watch the recording linked here.

Wednesday, January 26th, 5 – 7:15pm
Climate Deep Canvass Phonebank | RSVP
Thursday, January 27th, 7 – 8:30pm
Teach-In: Fentanyl & The Overdose Crisis | RSVP
Tuesday, February 1st, 1 – 1:45pm
Sick of Waiting: Barriers to Medicaid Keep Healthcare Out of Reach | RSVP
Tips for Testifying
In person: Go early to the room assigned for the committee hearing early. There will be a form for you to sign your name and who you are representing. You may sign in as yourself if you are not representing an organization. The higher your name is on the list,  the earlier you get to speak. You will be called on when they open the hearing to the public.
Online: If you cannot attend a hearing in person, you can register your position online up to a week out. (Registration is cut off 30 minutes before a hearing.) After signing in support of a bill, the confirmation page will list the email address where you can submit written testimony. Email committee members to let them know why you support or oppose a bill.
Helpful Links
Senate
Register your position and/or submit testimony on a Senate bill here.
Find the Senate Calendar here (meeting links are in the Calendar Notice pdf).
Find your Senator here.
House
Register your position and/or submit testimony on a House bill here.
Find the House Calendar here.
Find your Representative(s) here.
Don't know your district? Use this map.